New cases surged to a record in Los Angeles, the most populous U.S. county, where one in 20 people have been infected. California's daily cases reached a fresh high, and indoor dining at New York eateries will halt on Monday to stem the spread of the virus.
South Korea reported a record 950 new cases. Limits on opening hours for restaurants and bars in Tokyo may be imposed for longer as infections rise, Nikkei said. Singapore is tightening border controls as the outbreak worsens in Hong Kong.
Subscribe to a daily update on the virus from Bloomberg's Prognosis team here. Click CVID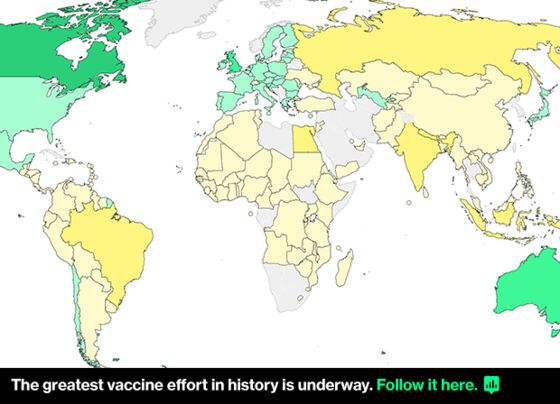 Pfizer Vaccine Wins FDA Authorization (10:26 a.m. HK)
The U.S. Food and Drug Administration approved Pfizer's Covid-19 vaccine for emergency use, the agency said on its website Friday.
The decision to authorize the use of Pfizer and partner BioNTech SE's vaccine will set in motion a complicated immunization drive that will launch across the country in coming days. Among the first to be inoculated will be health-care workers and seniors living in long-term care facilities.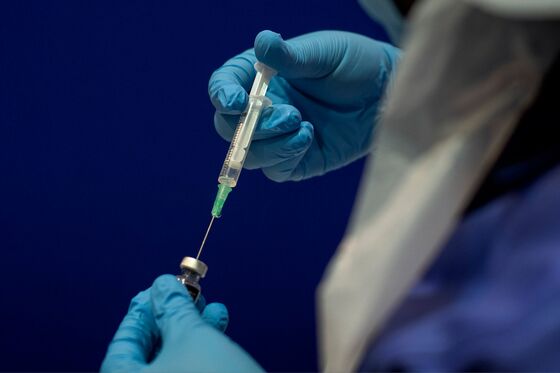 Mexico Approves Pfizer Jab (9:22 a.m. HK)
Mexico's health agency has authorized the Pfizer vaccine for emergency use, Deputy Health Minister Hugo Lopez-Gatell said.
Hospital occupancy in Mexico City, where 78% of general hospital beds are taken, is accelerating and the capital needs to take urgent action to slow the virus, Lopez-Gatell said.
Mexico reported 12,253 new cases late Friday, bringing the total to 1,229,379. Deaths rose 693 to 113,019.
Los Angeles Infections at Record (8:39 a.m. HK)
The Greater Los Angeles area added a record 13,815 new cases as the number of infections reached 501,635. The county, which has the highest number of cases and deaths in the U.S., reported 50 new deaths for a total of 8,199.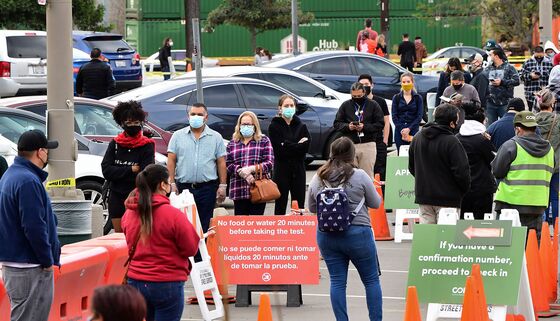 "We are on a very dangerous track to seeing unprecedented suffering and death here in L.A. County," the public health department said in a tweet.
South Korea's Record Cases (8:33 a.m. HK)
South Korea reported a record 950 new cases compared with 689 a day earlier, according the Korea Disease Control and Prevention Agency.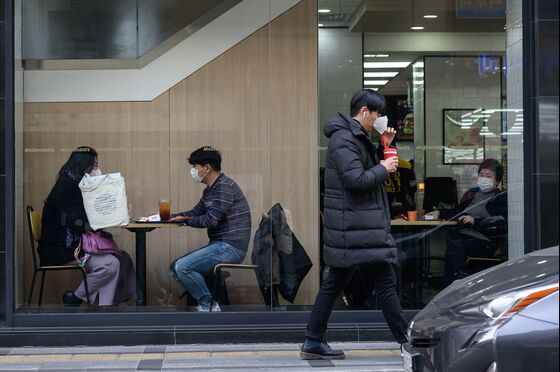 There were 928 local infections, with 359 new cases in Seoul and 268 in Gyeonggi province. Total deaths rose by 6 to 578.
Canada Vaccinations Days Away (6:54 a.m. HK)
Canada will begin its immunization campaign as early as Monday, with 30,000 initial doses of the Pfizer and BioNTech vaccine making their way from Belgium.
Quebec, which has suffered the majority of Canada's more than 13,000 virus deaths, said it expects inoculations to start Monday. Ontario is targeting Tuesday and will give priority to health-care workers.
U.S. Doubles Moderna Order to 200 Million Doses (4:33 p.m. NY)
The U.S. government will buy an additional 100 million doses of a vaccine candidate known as mRNA-1273 from Moderna. If authorized by the FDA for emergency use, the vaccine would being shipping immediately and be provided at no cost to Americans, the Department of Health and Human Services said in a statement.
Securing 200 million doses provides for continuous delivery through next June, according to HHS.
White House Presses FDA Head on Vaccine Approval (3:33 p.m. NY)
White House Chief of Staff Mark Meadows said that FDA Commissioner Stephen Hahn's job could be on the line if his agency doesn't soon approve Pfizer Inc.'s coronavirus vaccine, according to a person familiar with the matter.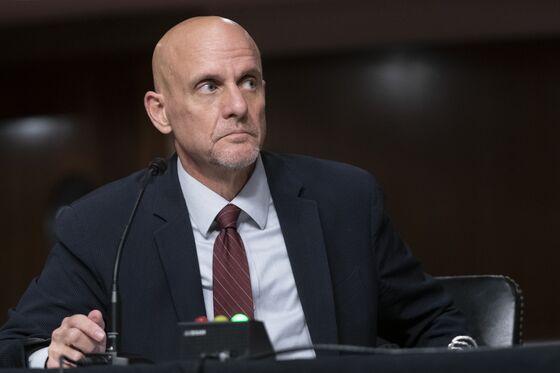 The warning came in a phone call with Hahn on Friday intended to push the Food and Drug Administration to swiftly approve the vaccine. In a statement, Hahn disputed a Washington Post report that Meadows told Hahn to submit his resignation if the vaccine doesn't receive an emergency-use authorization by the end of the day.
California Cases Rise to Record (2:40 p.m. NY)
California reported a record 35,468 new cases Friday, a 2.4% increase from the previous day, and 159 deaths. The state's tally now sits at 1.49 million infections and 20,622 fatalities in total.
A stay-home order was imposed on about two-thirds of the state's population over the weekend. Hospitalizations jumped 3.6% in 24 hours to a record 12,940 patients. Just 1,450 ICU beds remain available in the state, the fewest since data were tracked at the start of the outbreak.
WHO to Review Covid Shot Options (1:40 p.m. NY)
The World Health Organization will review vaccines by Pfizer, BioNTech, Moderna and AstraZeneca over the "next couple of weeks" to determine whether to grant them emergency-use licenses, WHO Chief Scientist Soumya Swaminathan said Friday.
Several countries and global procurement agencies such as UNICEF rely on WHO's pre-qualification services for vaccines and drugs, Swaminathan said.
France's Infection Pace Climbs Further (12:53 p.m. NY)
France's pace of new cases increased further over the past week, with the seven-day average of daily cases approaching 12,000 on Friday, according to official data.
Prime Minister Jean Castex on Thursday canceled plans to reopen theaters, museums, cinemas and sports facilities next week as the government's target for reducing average new cases to 5,000 a day by Dec. 15 remains out of reach.
New York Cases Above 10,000 for Third Day (11:42 a.m. NY)
Governor Andrew Cuomo will close indoor dining at New York City restaurants after coronavirus statistics surpassed benchmarks. Outdoor dining and takeout can continue.
New York recorded 10,595 new cases statewide, Cuomo said on Twitter. It's the third consecutive day of more than 10,000 cases.
FDA Probes Allergic-Reaction Reports (11:34 a.m. NY)
The U.S. Food and Drug Administration is scrutinizing reports of allergic reactions to Pfizer Inc.'s Covid-19 vaccine as it readies an emergency-use authorization.
There have been reports of serious allergic reactions to the vaccine in the U.K. After starting immunizations Tuesday, the U.K.'s National Health Service said people with a significant history of allergies shouldn't receive the shot.
Portugal Deaths Rise to Record (10:23 a.m. NY)
Portugal reported a record 95 deaths on Friday, four more than the previous high on Nov. 16. Cases increased by 5,080, according to the Health Ministry, less than the daily record of almost 7,000 recorded three weeks ago. Patients in intensive-care units fell by two to 507.
Singapore Tightens Rules for Travelers From Hong Kong (10:16 a.m. NY)
Singapore is tightening border measures in light of the worsening outbreak in Hong Kong, according to the city-state's health ministry.
All travelers entering Singapore from 11:59 p.m. on Sunday who have a travel history in the past 14 days to Hong Kong will be required to serve a 14-day stay-home notice at dedicated facilities.