(Bloomberg) — The Covid-19 variant discovered in the U.K. was found for the first time in the U.S., where President-elect Joe Biden criticized vaccine-distribution efforts under Donald Trump as too slow, and repeated his pledge to deliver 1 million doses a day after he takes office.
A second cluster of Covid-19 infections emerged in Sydney, prompting authorities to further tighten restrictions on New Year's Eve parties in an effort to prevent a wider outbreak. Elsewhere in the Asia Pacific region, the Philippines decided to ban travelers from 20 nations with the new Covid-19 strain, Myanmar announced a one-month extension of its containment measures, and schools in Beijing will start winter break early after recent local infections.
U.K. Prime Minister Boris Johnson has approved placing further swaths of the country into stricter Tier 4 restrictions, according to the Times, which will place millions of more people under stay-at-home orders on Wednesday.
Subscribe to a daily update on the virus from Bloomberg's Prognosis team here. Click CVID on the terminal for global data on coronavirus cases and deaths.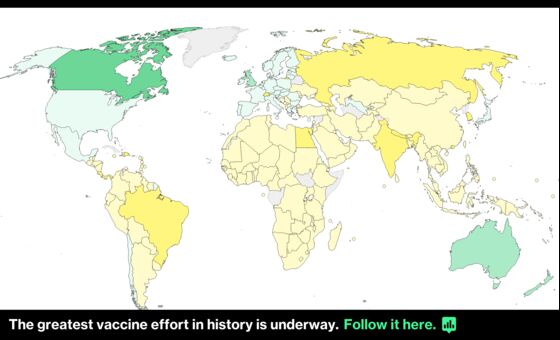 Second Sydney Cluster Emerges (8:40 a.m. HK)
A second cluster of Covid-19 infections has emerged in Sydney, prompting authorities to further tighten restrictions on New Year's Eve parties in an effort to prevent a wider outbreak.
The new cluster in a Sydney suburb involves six infections in an extended family group. A total of eighteen new local cases of the virus were reported overnight, New South Wales state Premier Gladys Berejiklian told reporters. Household gatherings to celebrate the New Year will be limited to 5 people across Greater Sydney.
Beijing Reports More Cases, Korean Infections Rise (8:30 a.m. HK)
The latest flareup in northern China continued to rise, with seven locally transmitted cases reported on Wednesday. Infections were reported in northeastern Heilongjiang province in addition to Liaoning and Beijing, where authorities have decided to start winter break early.
Meanwhile, South Korea reported 1,050 new cases, exceeding 1,000 for a second straight day.
California Drives U.S. Hospitalization Surge (8 a.m. HK)
U.S. hospitalizations for the coronavirus jumped 9% to a record 122,638 in the 14 days through Dec. 29, data from the Department of Health and Human Services released Tuesday show. California accounted for two-thirds of the increase. The state had 20,530 Covid-19 patients in the hospital as of Tuesday, a 48% increase from the 13,920 hospitalizations reported on Dec. 15. Covid-19 cases now account for 32.4% of all hospital in-patients there, the highest proportion of any state.
Hospitalizations increased 43% in Georgia and South Carolina, 22% in Florida, 21% in Arizona and Alabama, and 16% in New York over the two-week period. Meantime, hospitalizations fell sharply across the Midwest, dropping more than 30% in North Dakota, South Dakota, Montana, Nebraska, Wyoming, and more than 20% in Colorado, Michigan, Minnesota, Iowa and Wisconsin.
Texas Cases Surge to Record (7 a.m. HK)
Texas posted a record 26,990 new Covid-19 cases on Tuesday, shattering the previous all-time high established less than a week ago.
The tally was 41% higher than the previous record reached on Dec. 23, state health department figures showed. The figure may include some cases that local health authorities failed to report over the holidays, the state said. Hospitalizations climbed to 11,775.
U.K. to Expand Areas Under Toughest Restrictions (6:30 a.m. HK)
U.K. Prime Minister Boris Johnson has approved placing further swaths of the country into the country's toughest level of restrictions with the government is increasingly alarmed by the speed at which the new coronavirus variant is spreading, the Times reported.
Millions more people will be placed under stay-at-home orders on Wednesday, according to the report, with ministers considering imposing the Tier 4 measures on parts of the southwest and Cumbria, with rising rates in the West Midlands also a concern.
Covid Variant Is Found in U.S. (6 a.m. HK)
A man from Colorado is the first American known to be infected with the new variant of coronavirus that emerged in the U.K.
The man has no recent travel history, challenging health officials to find the possible source of infection and identify others who may be at risk.
Biden Says U.S. Needs Faster Response (5:45 a.m. HK)
U.S. President-elect Joe Biden slammed the slow rollout of the coronavirus vaccine by President Donald Trump's administration Tuesday, saying the plan was falling "far behind" where it needs to be.
"As I long feared and warned, the effort to distribute the vaccine is not progressing as it should," he said. "If it continues to move as it is now, it's going to take years, not months, to vaccinate the American people."
Biden listed his plans to speed the project, what he called one of the biggest operational challenges in decades. He said he would invoke the Defense Production Act to help ramp up vaccine production and repeated his vow to distribute 100 million doses of the vaccine in his first 100 days in office.
More than 2 million doses of the Covid-19 vaccine have been administered in the U.S. since the process began on Dec. 14, according to a nationwide tally by the U.S. Centers for Disease Control and Prevention.
California Extends Emergency Orders (5:30 a.m. HK)
California extended stay-at-home orders for the southern part of the state and the San Joaquin Valley as hospital-bed capacity continues to lag behind demand. Residents are urged to stay in their homes except for essential tasks, the state's secretary of health and human services, Mark Ghaly, said Tuesday on a conference call with reporters.
Hospitals are running out of staff, using rooms they wouldn't normally use for patients and the sick are experiencing long wait times in emergency rooms, Ghaly said. "We could see the worst of it in early January and many of the hospital leaders I talk to are bracing just for that."
N.Y. Shortens Quarantine Period (3:50 a.m. HK)
New York Governor Andrew Cuomo shortened the state's quarantine guidelines to 10 days from 14 to align with recommendations from the U.S. Centers for Disease Control and Prevention.
The rule applies to people exposed to Covid-19 who have not tested positive. Those individuals can end their quarantine after 10 days without a testing requirement as long as they have no symptoms, Cuomo said Tuesday.
The state reported 11,438 new cases of Covid-19, or 7.14% of those tested on Monday, while the state's total hospitalizations continued to climb to 7,814. That's double the total at the start of December. At least 124 people died, continuing a more than weeklong string of 100-plus daily fatalities.
New York City had administered 67,116 Covid vaccine doses as of Monday night, about 17% of the total delivered to the most populous U.S. city.
France, Ireland Weigh Tighter Restrictions (3:35 a.m. HK)
The French government is considering earlier curfews in parts of four regions on Jan. 2, Health Minister Olivier Veran said on France 2 television Tuesday Curfew may be brought forward to 6 p.m. from 8 p.m. in areas where hospitals are full, the minister said.
Meanwhile, Ireland's government will meet on Wednesday to weigh tighter restrictions to limit the virus's spread, Health Minister Stephen Donnelly told RTE Radio. New restrictions may include closing non-essential stores and further restricting house visits, he said.
And Denmark is extending a lockdown imposed before Christmas to fight the spread of the pandemic, which the government says is now more dangerous than during the spring. Shops, restaurants, gyms and schools will stay closed until Jan. 17, two weeks longer than initially planned, Prime Minister Mette Frederiksen said in Copenhagen on Tuesday.
EU to Get More Pfizer Vaccine Doses (11:20 p.m. HK)
The European Union will take an additional 100 million doses of the vaccine developed by BioNTech and Pfizer, Commission President Ursula von der Leyen said in a tweet. That will bring the union's total to 300 million.
Fauci Says U.S. Lags in Vaccination Levels (8:48 p.m. HK)
Fauci, director of the National Institute of Allergy and Infectious Diseases, said officials had hoped to have more people immunized by now. "We certainly are not at the numbers that we wanted to be at the end of December," he told CNN. "I believe that as we get into January we are going to see an increase in the momentum, which I hope allows us to catch up to the projected pace."
Moncef Slaoui, the Operation Warp Speed science officer, said on a call just prior to Christmas that shots weren't getting into people's arms as quickly as he'd thought. About 1 million doses had been administered as of Dec. 23, according to data from the Centers for Disease Control and Prevention, trailing the pace of distribution.