(Bloomberg) — The U.S. said air passengers arriving from the U.K. must have a negative Covid-19 test within 72 hours of departure, while Hong Kong extended its mandatory quarantine for most visitors to three weeks. The Greater Los Angeles area had record fatalities and hospitalizations, and Italy's total cases passed 2 million.
Germany identified its first case of the coronavirus variant that has emerged in the U.K., which a study showed is 56% more transmissible than other strains, although there's no clear evidence it results in more or less severe disease.
Brazil found the effectiveness of Sinovac Biotech's vaccine was less than 90%, though data is still being gathered, raising questions about its efficacy relative to rival shots offered by companies like those from Pfizer Inc. and Moderna Inc.
Global Tracker: Cases pass 79.3 million; deaths exceed 1.74 million
Southeast Asia vaccine rollout: Who will get what, when
World's most loathed industry produced vaccine in record time
Nurses celebrating Covid-19 vaccines battle social media scorn
Poultry farms in apartment 13D show scale of pandemic-aid fraud
The year we were hot for supercold freezers
What you need to know about a second stimulus payment: QuickTake
Subscribe to a daily update on the virus from Bloomberg's Prognosis team here. Click CVID on the terminal for global data on coronavirus cases and deaths.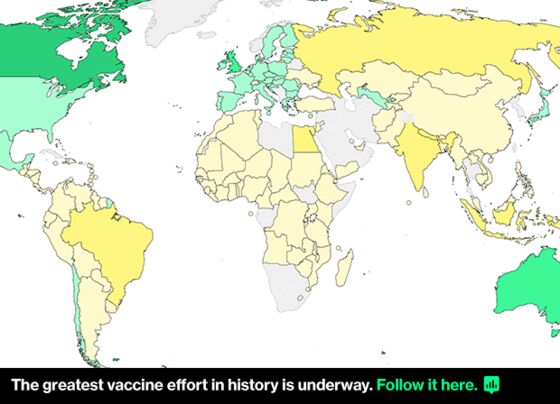 South Africa Has Record Infections for Second Day (2:55 p.m. Hong Kong)
South Africa reported a record number of new infections for a second consecutive day, with cases jumping 14,305 to a cumulative total of 968,563, the health ministry said in a statement late Wednesday. The number of people diagnosed with Covid-19 who have died rose by 326 to 25,983. A new virus strain has been detected in the country that may be driving a second wave of infections.
U.K. Travelers to U.S. Need Negative Test (2:05 p.m. Hong Kong)
The Centers for Disease Control and Prevention now requires air passengers arriving from the U.K. to get a negative polymerase chain reaction or antigen test no more than 72 hours before leaving, according to a statement from the U.S. authority. The order will be signed by President Donald Trump today and comes into effect on Dec. 28.
Passengers from the U.K. must provide written documentation of their test to their airline. Carriers must confirm the negative result for all passengers boarding, and deny entry to those who don't take a test.
Hong Kong Extends Quarantine, Bans South Africa Travel (Hong Kong 1 p.m.)
Hong Kong banned all recent travelers from South Africa and extended a mandatory quarantine for most other visitors in an attempt to prevent a new Covid-19 strain from spreading in the city.
The city will require all visitors, except those from mainland China, Macau and Taiwan, to quarantine for 21 days in a designated facility, the government said in a statement. Arrivals from those three territories only need to spend seven days at home in Hong Kong. Macau this week said visitors must spend 21 days under medical observation.
People who have stayed in South Africa for more than 2 hours in the past 21 days will be prohibited from entering Hong Kong. That rule also applies to those who spent time in Britain in the three weeks before traveling. Local media reported that the city may report roughly 60 new cases, with an unspecified number of unknown origin.
Chinese Vaccine Less Than 90% Effective in Brazil (12:35 p.m. Hong Kong)
Trials of Sinovac Biotech Ltd.'s vaccine in Brazil and Turkey suggest the shot has a protection rate on either side of 90%, meaning there is still no final assessment on exactly how effective it is in protecting people against Covid-19.
The company is finalizing results of phase III trials from the two countries, along with Indonesia and Chile, a person familiar said. The shot "didn't reach 90%" efficacy in late-stage trials, the Sao Paulo state health secretary said, a result that would make it less successful than those from Pfizer and Moderna. Turkey said a trial of the shot showed an estimated efficacy rate of 91.25%, but that was based on only 29 cases, too few for a definitive conclusion, the person said.
Virus Stretches Japan's Power Grid (12:10 p.m. Hong Kong)
Japan's power supplies are being strained as demand for heating surges from people opening windows to stem the spread of the virus during winter. Operators of trains, shops and other facilities are being advised to increase ventilation to prevent the spread of infection. But a a cold spell is leading to unusually high heating demand, just as generators reduce output as holidays start, said Ryoichi Kunimatsu, a spokesman for the Japan Electric Power Exchange.
Japan's electricity prices surged to the highest level since trading began in 2005 on the exchange. The 24-hour average spot electricity price for Dec. 26 delivery jumped 144.5% to 35.83 yen per kilowatt-hour on Friday.
China Undertakes Mass Testing in Dalian (10:40 Hong Kong)
China reported seven confirmed Covid-19 cases from Thursday, all from the northeastern coastal city of Dalian. One was reclassified as a confirmed case after the infected person developed symptoms. China counts Covid patients as confirmed cases only after they develop symptoms, otherwise classifying them as asymptomatic. Dalian and Beijing each reported an asymptomatic case.
Dalian has mobilized hospitals and third-party testing services to test up to 200,000 people a day, and had tested 2.13 million people as of 6 pm Wednesday, local health authorities said.
L.A. Reports Record Fatalities, Hospitalizations (9:20 a.m. Hong Kong)
The Greater Los Angeles area, which has the nation's highest number of infections and deaths, had record of fatalities and hospitalizations. "A person now dies every 10 minutes in L.A. County from Covid-19," said Barbara Ferrer, the county's director of public health.
The county added 148 new deaths, bringing the total to 9,299, while cases increased by 13,678 to 677,299 — or one in 15 people. Hospitalizations rose to 6,499. "The local emergency rooms and hospitals are over-capacity," the health department said. "There are no indications of an end in sight to the current surge."
Health officials also asked residents to worship through streaming services or those conducted outdoors — even after changing its order over the weekend to allow indoor services to align with Supreme Court rulings.
South Korea Grapples With Outbreak at Prison (9:15 a.m. Hong Kong)
South Korea reported a record 1,241 new coronavirus cases over the last 24 hours, according to the Korea Disease Control and Prevention Agency's website, with total deaths rising 17 to 773.
There has been a major outbreak at Seoul Dongbu Detention Center, Yonhap News reported, citing Prime Minister Chung Sye-kyun. There were 288 cases at the facility. South Korea is testing 110,000 people a day.
Beijing Tells Officials to Lead by Example at New Year (8:45 a.m. Hong Kong)
Beijing city is asking government officials to lead by example and stay in the capital city for coming new year and Chinese lunar new year holidays, according to a virus control work meeting held Thursday. All citizens are encouraged to stay where they are for the holidays. The city reported two local asymptomatic cases this week.
Sydney's Cluster Grows to 108 Cases (8:40 a.m. Hong Kong)
The cluster of Covid-19 infections in Sydney's Northern Beaches has grown to 108, with authorities urging people to limit their movement around the city and avoid crowded Boxing Day shopping sales. New South Wales state recorded seven new cases overnight, with four linked to the cluster, Premier Gladys Berejiklian said. Health officials are concerned that infected people visited bars and food courts in the central business district in the days before Christmas and are urging people who attended those venues to self isolate and get tested.
"Please avoid the CBD where you can and if you must go to the CBD and you must go shopping, make sure you're wearing a mask and are socially distancing," Berejiklian said.
Florida New Cases Rise Above 13,000 (5:19 p.m. NY)
Florida's resurgence of Covid-19 continued to escalate as it reported 13,147 new infections, among the highest of the pandemic. It was the second time in a week with infections above 13,000. The state's record was set in mid-July, during the summer surge there, with more than 15,000 daily cases.
Minnesota Passes 5,000 Fatalities (3:51 p.m. NY)
Minnesota surpassed 5,000 deaths on Thursday as it reported another 79 fatalities. The state recorded almost 1,400 deaths in December, the most deadly month by far in the pandemic. Like most states across the Midwest, cases and hospitalizations soared this fall in Minnesota but have been on a general decline. Fatalities, however, come later and appear to have peaked in Minnesota only in the last few days, according to data from the Covid Tracking Project.
Milton Keynes Testing Lab Suffers Outbreak, Sky Reports (3:20 p.m. NY)
Covid-19 cases have been reported in workers at the Milton Keynes Lighthouse Laboratory, Sky News said, citing an employee at the facility who asked to remain anonymous, and a spokesperson for the Department of Health and Social Care.
Cases have been reported in three of four testing teams, and among administrative and warehouse staff at the site, Sky said, noting that the number of people affected is not known.
Around 20 people in one 70-person lab team are currently isolating, according to the employee, who cited concerns that rules rules put in place to keep staff safe were being broken in order to meet testing targets.
California Cases Surpass 2 Million (2:53 p.m. NY)
California added 39,070 cases, the first state to cross 2 million infections. It also reported 351 new deaths for a total of 23,635.
The state's test positivity reached 12.4%, the highest since the April peak. The number of available intensive-care unit beds hovered near record low levels with more than half of the state's supply fully taken up as hospitalizations surged to a new high.
U.S. Deaths Could Near 420,000 by Mid-January, CDC Projects (2:19 p.m. NY)
The U.S. could reach as many as 419,000 Covid-19 deaths by Jan. 16, the Centers for Disease Control said in a forecast based on projections from 36 modeling groups. The lower end of the forecast was 378,000 deaths. Total U.S. deaths since the start of the pandemic are now more than 327,000, according to data compiled by Johns Hopkins University.
French Cases Jump; Vaccinations to Begin Sunday (1:20 p.m. NY)
New virus cases in France jumped by 21,634 in the last 24 hours, according to data by Sante Publique France. It's the largest single day increase since Nov. 20. But the positivity rate of the tests has been steadily decreasing, and it now stands at 3.8%, down from 6.4% on Dec. 8.
The French have rushed to get tested ahead of the holiday season and family gatherings.
France's National Authority for Health on Thursday approved the use of the Pfizer-BioNTech vaccine against Covid-19 for people age 16 and older. The vaccination campaign kicks off on Sunday in Sevran near Paris and Dijon.
N.Y. Cases in December Hit Record (1:14 p.m. NY)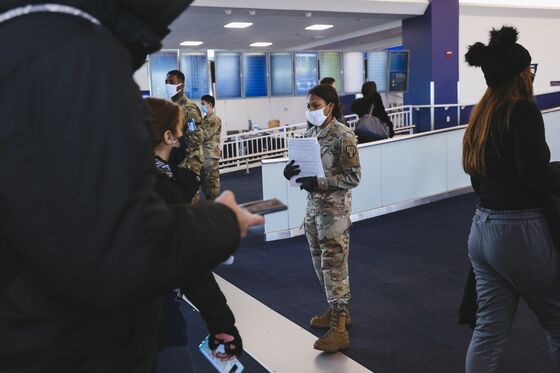 New York state's Covid-19 cases have reached a new monthly high.
The state has posted more than 236,000 cases in December, more than the previous high of 224,602 reported in April, data show.
New York, the early center of the U.S. outbreak, is seeing a resurgence with colder weather and holidays. It has reported more than 12,000 daily cases twice in the past week. Its hospitalizations have climbed to 6,928 on Dec. 23, from 3,924 on Dec. 1.
U.K. Vaccinated More Than 600,000 (1:07 p.m. NY)
The U.K. said it has administered the first dose of Pfizer/BioNTech's vaccine to 616,933 people between Dec. 8 and Dec. 20, with care home residents, those aged 80 and above as well as health and social workers among the recipients.
The rate of vaccination will increase in the coming weeks as more doses become available and vaccine candidates from makers like Moderna and AstraZeneca get approved, the government's Department of Health & Social Care said in a statement.
The country has secured 40 million doses of the Pfizer/BioNTech vaccine, which requires two doses.
N.Y.C. Hospitalizations Highest Since May (11:28 a.m. NY)
New York City hospitals continue to report increasing Covid-19 caseloads, reaching their highest levels since late May with 2,337 patients as of Tuesday, up from 2,241 the previous day, almost triple the number reported since Nov. 22, according to state health department data.
Among the city's population, 3.36 persons per 100,000 were hospitalized as of Tuesday, an increase from 3.19 the previous day, and new daily hospitalizations on a seven-day average totaled 201, just above the city's 200-patient hospital capacity warning threshold, the city health department reported. The city's seven-day rate of positive tests for the virus stood at 6.29%, exceeding the 5% public health warning threshold.
Although newly reported cases decreased to 2,890 from 3,308 on a seven-day average, this may be due to a lag in the data collection said health department spokesman Patrick Gallahue. "The numbers are potentially influenced by external factors and there is a lag for certain metrics," he said. "We continue to urge New Yorkers to follow the precautions to stay safe."
Germany Identifies Case of U.K. Virus Mutation (11:02 a.m. NY)
Germany has identified its first case of a variant of the coronavirus that emerged in the U.K. that may be more transmissible that other strains.
The variant, known as B.1.1.7, was discovered in a woman who traveled to Baden-Wuerttemberg from London via Frankfurt on Dec. 20, according to a spokesman for the state's health ministry. The woman has shown mild symptoms and is isolating along with three others she came into contact with, he added.
Italy Passes 2 Million Cases (10:55 a.m. NY)
Italy surpassed 2 million virus cases Thursday, with 18,040 new infections and 505 deaths reported. The positive-test rate rose slighter to 9.3% from 8.3% while the number of deaths remains in line with previous days.
France's Macron No Longer Showing Symptoms (5:48 p.m. HK)
French President Emmanuel Macron is no longer showing Covid-19 symptoms, his office said in a statement. Macron has continued to work throughout his illness and will remain in isolation for another seven days, the Elysee Palace said. Macron tested positive on Dec. 17.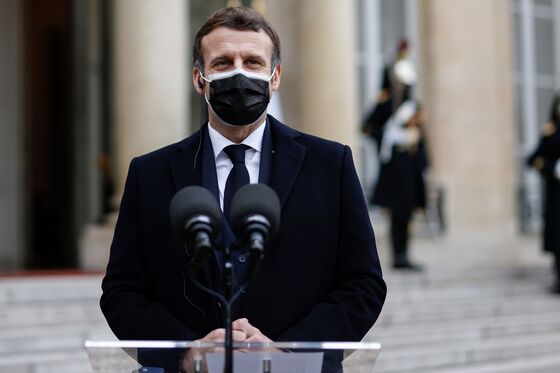 New Virus Strain's Transmissibility to Cause More Deaths (5:25 p.m. HK)
The mutated coronavirus strain that's been spreading in the U.K. appears to be more contagious and will likely lead to higher levels of hospitalizations and deaths next year, a new study showed.
The variant is 56% more transmissible than other strains, according to the study by the Centre for Mathematical Modelling of Infectious Diseases at the London School of Hygiene and Tropical Medicine. There's no clear evidence that it results in more or less severe disease.
France-U.K. Channel Border to Remain Open Through Christmas (4:42 p.m. HK)
The U.K. and France agreed to keep the key Dover-Calais trade crossing, including Eurotunnel, open over Christmas. Both ports will remain operational to allow hauliers and citizens to "return home as soon as possible," U.K. Transport Secretary Grant Shapps said on Twitter Wednesday morning. Coronavirus testing will also continue in Kent, the county where Dover is located, he said.