European countries suspended travel links to the U.K., as a full lockdown came into force in London and southeast England to contain a mutation of the coronavirus.
Sydney's 5 million residents are being asked to curb activities over the next few days amid a growing outbreak, while Thai authorities closed a seaside province near Bangkok following a record spike in new cases. India's infections topped 10 million.
Inoculations with Moderna Inc.'s vaccine are likely to begin Monday in the U.S. after receiving regulatory approval. Congressional leaders reached a deal on a roughly $900 billion plan spending package to help the U.S. economy weather the coronavirus pandemic.
Subscribe to a daily update on the virus from Bloomberg's Prognosis team here. Click CVID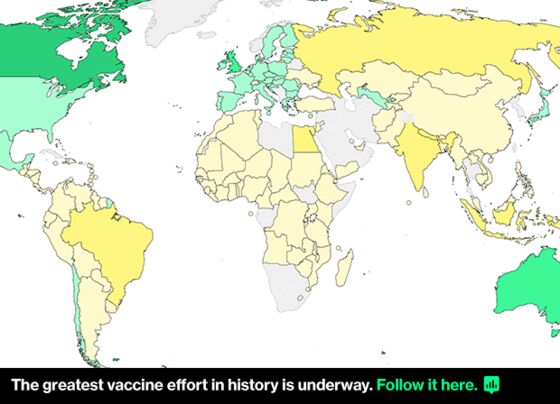 Korea's Cases Fall Below 1,000 for First Time in Week (9:03 a.m. HK)
South Korea reported 926 new cases in 24 hours, dropping below 1,000 for the first time in a week, according to data from the Korea Disease Control and Prevention Agency's website.
Seoul Metropolitan Government internally decided to issue an administrative order banning indoor and outdoor group meetings of five or more people, Yonhap News reported, citing unidentified city officials. The city government is in talks with the state government and will make a final decision on details.
Canada Joins Bans on Flights From U.K.: AP (9:02 a.m. HK)
Canada will join some European countries in banning flights from the U.K. in a bid to block a new strain of Covid-19, the Associated Press reported, without citing the source of the information.
Bogota Reimposes Restrictions as Cases Surge (8:56 a.m. HK)
Colombia's capital Bogota will return to partial mobility restrictions where citizens are only allowed to buy staples, go to restaurants, shopping malls, among other spots, depending on the last digit of their ID, Mayor Claudia López said in a video posted on Twitter. The new measures will take place from Monday.
Amazon Shuts New Jersey Warehouse: CNBC (8:54 a.m. HK)
Amazon.com Inc. has closed a warehouse in northern New Jersey until Dec. 26 after more of its workers tested positive for coronavirus without showing symptoms, CNBC reported, citing a notice sent to employees. Amazon spokesperson Lisa Levandowski confirmed in a statement to CNBC that employees at the facility will be paid for any shifts missed during shutdown. She declined to comment on the total number of cases found.
U.K. Suppliers Sound Alarm With Routes Hobbled (7:57 a.m. HK)
Britain's biggest port stopped all traffic heading to Europe and food supplies into the nation face major disruption after the discovery of a new variant of the Covid-19 virus prompted its nearest neighbors to limit travel links with the U.K.
The crisis prompted Prime Minister Boris Johnson to convene a meeting of the government's emergency committee on Monday in a bid to keep goods flowing. Further meetings are happening Sunday evening and Monday morning "to ensure robust plans are in place," the prime minister's office said in a statement.
Takeda Planning Trial of Moderna Vaccine (7:42 a.m. HK)
Takeda Pharmaceutical Co. will start a trial for Moderna Inc.'s coronavirus vaccine in Japan as soon as January, a representative for the company said. Vaccines from Pfizer Inc. and Moderna are already being distributed in the U.S. after obtaining emergency approval.
Congress Reaches Deal on $900 Billion Relief Plan (5:58 p.m. NY)
Congressional leaders reached a deal on a roughly $900 billion spending package to bolster the U.S. economy amid the continued coronavirus pandemic, giving lawmakers a short timetable to review and pass the second largest economic-rescue measure in the nation's history.
Senate Majority Leader Mitch McConnell, House Speaker Nancy Pelosi and Senate Democratic leader Chuck Schumer announced the accord Sunday. The legislative text was still being written, but the House was expected to vote on it Monday, followed by the Senate.
WHO Working With U.K. to Study Mutation (4:46 p.m. NY)
The World Health Organization is working with scientists in the U.K. to understand if a new coronavirus variant reported there spreads easier, causes more severe illness and evades the antibody response generated by vaccination, Maria van Kerkhove, the agency's technical lead on Covid-19, told BBC Sunday.
"What they're working on is to understand if it is the variant itself that is causing its ability to spread more easily, or if it's a combination of behavioral factors of individuals," Van Kerkhove said. "So far, the information that they have shared with us is that it doesn't have any impact on the vaccines and it doesn't seem to cause any difference in clinical picture or it doesn't seem to cause more severe disease."
Front-Line Workers, Elderly Next Up for Vaccines (4:40 p.m. NY)
The elderly and front-line essential workers, including firefighters, teachers and grocery store workers, should be next in line for coronavirus vaccines, an advisory committee to the Centers for Disease Control and Prevention voted on Sunday.
The first round of vaccinations, which started last week, is going mostly to to health-care workers and residents of long-term care facilities.
Turkey Suspends Flights From U.K. and Other Nations (4:36 p.m. NY)
Turkey temporarily halted flights from the U.K., Denmark, the Netherlands and South Africa after the U.K. government warned that a new, fast-spreading strain of the coronavirus was "out of control," Turkish Health Minister Fahrettin Koca said in a Twitter post.
Turkey President Recep Tayyip Erdogan called for the suspension in coordination with the Transportation Ministry, Koca said. He didn't elaborate on the time frame.
U.S. Has Administered 556,208 Vaccine Shots (4:33 p.m. NY)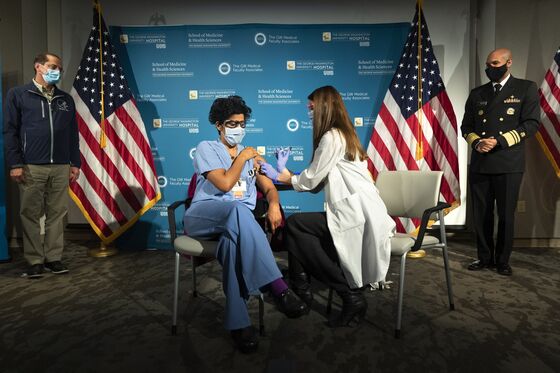 The U.S. has administered more than half a million Covid-19 vaccine doses in the first week of the country's mass inoculation campaign, the U.S. Centers for Disease Control and Prevention said Sunday.
The shots, made by Pfizer Inc. and BioNTech SE, are being distributed mostly to front-line health-care workers around the country. In total, 556,208 shots have been administered of 2.84 million distributed so far, the agency said online. The Atlanta-based CDC is tracking the shots as part of the nationwide rollout, as well as to monitor their safety.
California Reports Worst Week Yet (2:40 p.m. NY)
California's new Covid-19 cases surged by 302,690 this week, the state's worst seven-day period, to 1,854,456, the health department's website shows. If California were a country, it would rank ninth on a list of most coronavirus cases, between Italy and Spain. It would place 17th for deaths, between South Africa and Indonesia.
Italy Says Traveler from U.K. Has Mutation (2:35 p.m. NY)
Italy's health ministry said a patient who entered the country in recent days from the U.K. was diagnosed with the new virus variant. The person and his close contacts are in isolation and followed all protocols, the ministry said in a press release.
France Has Fewest Deaths in Almost Two Months (2:20 p.m. NY)
France's deaths linked to the coronavirus rose by 131 to 60,549 on Sunday, the smallest increase since Oct. 25. The country registered 12,799 new cases, with the pace of infections increasing for the fifth straight day. Hospitalizations and patients in intensive care increased, after falling for most of the past week.
Canada Cases Top Half a Million (2:17 p.m. NY)
Canada surpassed 500,000 Covid-19 cases, with infections in Ontario and Quebec, the two most populous provinces, running close to the highest levels on record. The nation added almost 6,500 cases on Saturday.
Moderna Shots Likely to Begin Monday, Slaoui Says (1:29 p.m. NY)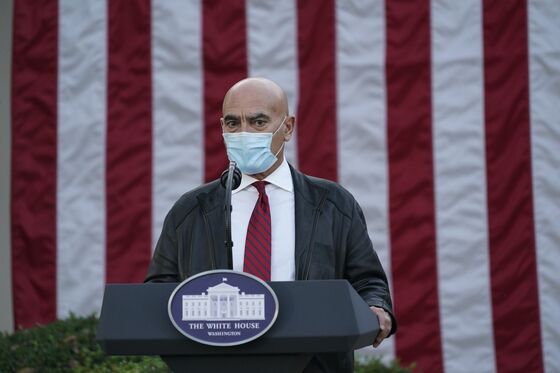 Covid-19 immunizations with the newly-authorized Moderna Inc. shot are likely to begin Monday morning, said Moncef Slaoui, head of the U.S. government's vaccine drive.
Operation Warp Speed plans call for 5.9 million doses of the Moderna vaccine and 2 million doses of the Pfizer Inc./BioNTech SE vaccine to ship on Monday, Slaoui said on CNN's "State of the Union."
U.K. Flight Ban Not Needed: U.S. Virus Team Member (12:30 p.m. NY)
The U.S. doesn't need to suspend flights from the U.K. because of the coronavirus mutation that helped prompt an emergency lockdown for London, a member of the White House virus task force said.
"I really don't believe we need to do that yet," Assistant Secretary for Health Brett Giroir said on ABC's "This Week" on Sunday.
Mutant Virus Probably Not More Lethal: Gottlieb (11:45 a.m. NY)
The new strain of the coronavirus is not fully understood, but it's probably not more lethal, Scott Gottlieb, former FDA commissioner and Pfizer Inc. board member, said on CBS's "Face the Nation." He added that it does seem to be more contagious.
U.K. Reaches Highest Daily Total (11:19 a.m. NY)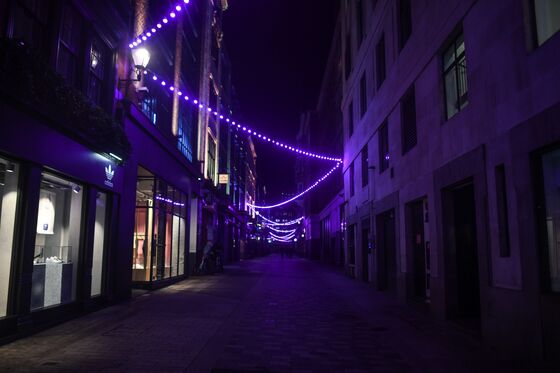 The U.K. reported 35,928 cases of Covid-19 on Sunday, the most for a day since the pandemic began and more than 10,000 above the weekly average. Fatalities, often lower on weekends due to reporting delays, were 326, less than the trailing seven-day average